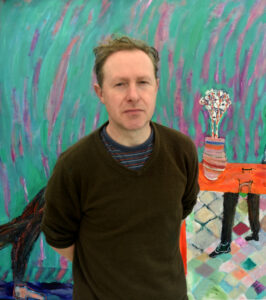 Born 13/12/1970,
Aylesbury UK
Living in Cornwall UK
andrewlittenart@aol.com
Artists Statement
"I want to create art that speaks of the love, anger, loss, personal growth and the private confusions we all experience in our lives. I seek to create stories of authenticity that compress a sense of endurance of the human spirit. Empathy is powerful, and I hope for an unguarded creativity that connects with our shared mutual humanity."  A. Litten 2020
Representation
Anima Mundi. UK (link)
JD Malat Gallery. London (link)
DeQueeste Art. Belgium (link)
Also, Contemporary British Painting Group and Newlyn Society Of Artists.
Exhibiting Synopsis
Began exhibiting in 2002 with DICK THE DOG, Penzance. Was included in an exhibition 'Nudes' (along with Epstein and Renoir) in New York City which was reviewed in the NEW YORK TIMES and lead to work being placed in the collection of the MILWAUKEE ART MUSEUM USA.  Exhibited regularly with GOLDFISH, Penzance and at numerous international art fairs including Red Dot Miami, Red Dot New York, Art Toronto and Art Chicago with JILL GEORGE GALLERY. First major exhibit in London was at LIME WHARF in Vyner Street, with the work 'Dog Breeder' which was created as an anti-art statement and exhibited during the week of Frieze Art Fair 2007.
Was included in 'No Soul For Sale' an exhibition of independents in 2010 at TATE MODERN (turbine hall). Invited as solo guest at L-13 LIGHT INDUSTRIAL WORKSHOP, London in 2012. Exhibited with WW GALLERY at the 54th VENICE BIENNALE and with 'This Me Of Mine – Identity in the Digital Age' touring exhibition and symposium. Has exhibited in numerous international curated exhibitions including Berlin, Dublin, London, Sienna, Mexico City, Edinburgh, Milwaukee, New York City and around China. Recent solo exhibition 2018 was Arts Council England supported. Has work in numerous international collections including Milwaukee Art Museum.
Solo Exhibitions
FRAGILE TOGETER 2021 JD Malat Gallery, London
CONCERNING THE FRAGILE 2020 Anima Mundi, St Ives UK
SOMETHING IS WRONG 2020 De Queeste Art, Belgium
ORDINARY BODIES | ORDINARY BONES 2018  Anima Mundi, (link) St Ives UK  Arts Council Supported
IMPROMPTU 2018  Drill Hall Gallery, National Australian University, Canberra, Australia
ARCHIVE (selected work 1990-99) 2018 Royal Cornwall Museum (link) Truro UK
NEED 2016 Patrick Davies CA , Herts, UK
I WISH YOU ILL AND HOPE YOU SUFFER AS MUCH AS I HAVE 2014 Spike Island (link) Test Space, Bristol
I D SMEAR 2013 Motorcade / FlashParade (link), Bristol, UK
GUEST 2012 L-13 Light Industrial Workshop (link), London
I D SMEAR 2012 Millennium Gallery, St Ives, UK
THIS IS REAL 2011 Oo Gallery, New York
PAINTINGS 2008 Goldfish, Penzance UK
CONNECT ? 2007 Goldfish, Penzance UK
FREE RANGE 2006 Goldfish, Penzance UK
ORDINARY BODIES 2005 Goldfish, Penzance UK
I TRUST YOU IMPLICITLY 2005 Gallery Pellar, New York
SOMETHING HAPPENED 2004 Hillsboro Fine Art, Dublin Ireland
OBJECTS OF SUBJECTIVE INTERPRETATION 2004 Dick The Dog, Penzance UK
I THINK I WAS JUST TALKING TO MYSELF 2003 Dick The Dog, Penzance UK
Group Exhibitions
Gallery Artists 2021 JD Malat Gallery, London
Visual Fantasies 2022 Contemporary British Painting, Elysium Gallery, Swasea, Wales
Unstable Monuments 2022 The Old Court House, Bristol UK
Memory 2022 Newlyn Society Of Artists Tremenheere Sculpture Garden Gallery, UK
Past, Present, Future 2021 Newlyn Society Of Artists Tremenheere Sculpture Garden Gallery, UK
Looking Forward 2021 Newlyn Society Of Artists Tremenheere Sculpture Garden Gallery, UK
Thresholds (The Unnamed) 2022 Anima Mundi, St Ives, UK
Gallery Artists 2021 JD Malat Gallery, London
Castles Of Sand 2021 Anima Mundi, St Ives, UK
Moi et les Autres 2020 De Queeste Art, Belgium
Gallery Artists 2020 JD Malat Gallery, London
Isolation Mastered 2020 JD Malat Gallery, London
Made in Britain 2019 82 Painters of the 21st Century Muzeum Narodowe w Gdansk, Poland
Winter Exhibition 2018 Anima Mundi, St Ives, UK
Contemporary Masters from Britain 2018 Yantai Art Museum, China
Anything Goes 2017 Art Bermondsey Project Space, London
Testcard. P 2017 The Crypt Gallery, Marylebone, London
Contemporary Masters from Britain 2017 , Tianjin Academy of Fine Arts Museum, China, 
Contemporary Masters from Britain 2017 Jiangsu Art Gallery, Nanjing, China
Contemporary Masters from Britain 2017 Jiangsu Museum of Arts and Crafts (Artall), Nanjing, China
The Musings of Creatures 2016 Falmouth Art Gallery, Cornwall UK
Sixty 2016 Lubomirov/Angus-Hughes Gallery, London
Now In Reverse 2014 Hundred Years Gallery, London
Armory Show 2014, See|Gallery, New York
This Me Of Mine (Self time and context in the digital age) 2013 Ipswich Art School Gallery , Ipswich UK
Year In Review (Digital display Armory Art Week) 2013 See.Me Space, New York
On Paper (incl. Kitaj, Hambling, Rego, Hockney) 2012 Snig Hill Gallery, Sheffield
St Ives Collection (incl. Passmore, Nicholson, Heron) 2012 Snig Hill Gallery, Sheffield UK
Accidental Genius 2012 Milwaukee Art Museum, Milwaukee
Kunstfactor 2012 Marzia Frozen, Berlin
L13 2012 L-13 Light Industrial Workshop, London
Drawing The Line 2011 Siena Art Institute, Siena
AC/BC 2011 Marzia Frozen, Berlin
Mixed 2011Augustine Stewart House, Norwich UK
Unoriginal 2011 RSA Collective at Scottish National Gallery, Edinburgh UK
Red 2011 Cultivate Vyner Street, London
Afternoon Tea 2011 W.W.Gallery, London at the Venice Biennale
Book 2011 Oo Gallery , New York
Concrete Skin 2011 BHVU Gallery, London
Foot 2011 Oo GALLERY, New York
No Soul For Sale 2010 TATE MODERN (turbine Hall) London
Art Toronto art fair 2010 booth 504 Canada JILL GEORGE GALLERY
The Museum Of Everything 2010 at the CRUNCH FESTIVAL, Wales
Exhibition # 2 2010 THE MUSEUM OF EVERYTHING, London
Art Toronto art fair 2009 Toronto JILL GEORGE GALLERY
20/21 British art fair 2009 London JILL GEORGE GALLERY
Art Chicago art fair 2009, Chicago JILL GEORGE GALLERY
Red Dot Miami art fair 2008 JILL GEORGE GALLERY
Red Dot London art fair 2008 JILL GEORGE GALLERY
Toronto International art fair 2008, Toronto JILL GEORGE GALLERY
The Figure Show 2008 JILL GEORGE GALLERY, London
Red Dot art fair 2008, New York JILL GEORGE GALLERY
Short Stories with Geraldine Cox 2008 ARTSPACE, Nottingham UK
No Theme 2008 Goldfish, Penzance UK
The Figure Show 2007 JILL GEORGE GALLERY, London
Move 2007 LIME WHARF GALLERY, London
London Art art fair 2007 Islington, London GOLDFISH
Margins 2007 SHERBORNE HOUSE, Dorset UK
London Art art fair 2006 Iislington GOLDFISH, London
Mixed 2005 GOLDFISH Penzance UK
Mixed 2004 HILLSBORO FINE ART, Dublin
Nudes (incl Renoir,Epstien,Grant) 2003 GALLERIE PELAR, New York
Objects 2003 DICK THE DOG, Penzance UK
Entry (with Michael Rees) 2002 DICK THE DOG, Penzance UK
Publications
MADE IN BRITAIN 82 Painters of the 21st Century Muzeum Narodowe w Gdansk, Poland (Paperback)
EVERYDAY MEANS Selected Small Works 1990-1999 published by Royal Cornwall Museum
CONTEMPORARY MASTERS FROM BRITAIN published by Jiangsu (Artall) Museum of Arts and Crafts
CONTEMPORARY MASTERS FROM BRITAIN published by Priseman Seabrook exhibition catalogue (link)
THE MUSINGS OF CREATURES, by Andrew Lanyon published by Falmouth Art Gallery 2016
MANIFEST, International Painting Annual (link) published by Manifest, Ohio 2015
THIS ME OF MINE Self, time and context in the digital age 2013
GUEST solo exhibition catalogue published by L-13 2012
ART SLANT collectors catalogue Vol 1 issue 3 2012
ART TAKES MIAMI catalogue 2012
TIMES SQUARE billboard N.Y by Artists Wanted 2012
ID SMEAR solo exhibition catalogue published by Millennium 2012
AFTERNOON TEA catalogue published by W.W. Gallery 2011
CONCRETE SKIN catalogue published by BHVU Gallery 2011
ART EXPO catalogue for Art Expo art fair 2011, Artisan Direct
EVERYTHING #2 Museum of everything catalogue for Tate Modern exhibition
ART WITHOUT CATEGORY British and Irish art from The Petullo Collection.
PAINTINGS solo exhibition catalogue Published by Goldfish 2008
CONNECT ? solo exhibition catalogue Published by Goldfish 2007
FREE RANGE solo exhibition catalogue published by Goldfish
SELECTED PLAYS by David Farr (link) 'Blue Nylon Rug' by Andrew Litten, used as cover image, Published by Faber & Faber
ORDINARY BODIES solo exhibition catalogue with text by Paul Vibert, Published by Goldfish
Art Fairs
ZONA MACO Mexico City 2020 Anima Mundi
ART TORONTO 2010 Jill George Gallery
20/21 BRITISH ART FAIR  at Royal College of Art 2009 Jill George Gallery
ART TORONTO 2009 Jill George Gallery
ART CHICAGO 2009 Jill George Gallery
RED DOT MIAMI 2008 Jill George Gallery
RED DOT LONDON 2008 Jill George Gallery
TORONTO INTERNATIONAL ART FAIR 2008 Jill George Gallery
RED DOT NEW YORK 2008 Jill George Gallery
LONDON ART 2009 Goldfish
LONDON ART 2008 Goldfish
LONDON ART 2007 Goldfish 
LONDON ART 2006 Goldfish